Amanda Elmore
PhD Student since 2014
Research areas
F. nucleatum
Colorectal cancer
Metagenomics
Education
BS: Purdue University (2013)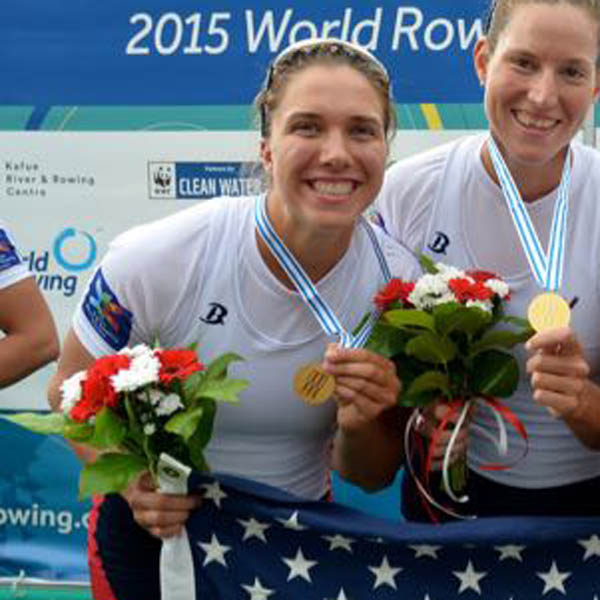 Background
My research project focuses on the strain-level genomic variation of Fusobacterium nucleatum in vivo. We are interested in why F. nucleatum, a bacterium enriched in colorectal cancer, is abundant in the mouth but rarely colonizes the gut. I am developing bioinformatic methods using metagenomic data to characterize genetic variation and identify genes that allow F. nucleatum to colonize the gut. This research will be important towards understanding the microbial ecology of F. nucleatum and it's role in CRC.
Shortly after I joined the lab in 2014, I was invited to train at the USRowing Olympic training center to compete for a spot on the 2016 Olympic team. Pat has been amazingly supportive of my journey as I've worked part-time towards my degree while training!
Papers from time in Schloss lab
Hagan AK, Lesniak NA, Balunas MJ, Bishop L, Close WL, Doherty MD, Elmore AG, Flynn KJ, Hannigan GK, Koumpouras CC, Jenior ML, Kozik AJ, McBride K, Rifkin SB, Stough JMA, Sovacool KL, Sze MA, Tomkovich S, Topçuoğlu BD, Schloss PD.

2020. Ten simple rules to increase computational skills among biologists with Code Clubs.

PLOS Computational Biology

.

16:

e1008119. DOI:

10.1371/journal.pcbi.1008119

.